Biography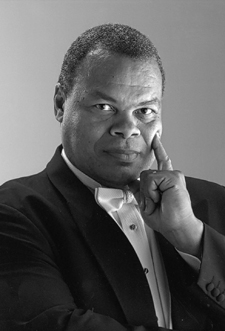 Donnie Ray Albert is a regular guest of opera companies and symphony orchestras around the world, including the Metropolitan Opera as Germont, Los Angeles Opera as Trinity Moses in Mahagonny, Simone in A Florentine Tragedy, and as the Father in Hansel and Gretel, plus numerous appearances with Opera Pacific, Houston Grand Opera, Florentine Opera of Milwaukee, Dallas Opera, Arizona; Atlanta Opera, Austin Lyric Opera, Florida Grand Opera, Minnesota Opera,Utah Opera, and the opera companies of New Orleans, Baltimore, Columbus, Kansas City, Omaha, Pittsburgh, and, in Canada, with the companies in Calgary, Edmonton, Toronto, Montreal, Manitoba, and Vancouver. This past season, he returned to Copenhagen as Falstaff and to Austin Lyric Opera as Amonasro.
IIn Europe, he has appeared at the Cologne Opera singing all Four Villains in Les Contes d'Hoffman, Cavalleria Rusticana, I Pagliacci, and Frank in Die Tote Stadt, the Royal Opera House, Covent Garden as the Four Villains, the Royal Opera Wallonie in Liege for Zemlinsky's A Florentine Tragedy, the National Theater in Prague as Jack Rance, the Deutsche Opera Berlin, Lithuanian National Opera in the title role of Der Fliegende Holländer, plus the opera houses in Bordeaux, Köln, Bregenz, Milan, Mannheim and Hamburg, and in Vienna in the title role in Ernst Bloch's Macbeth for the Vienna "Klangbogen" Festival. He has appeared in Japan with the New National Theater in Tokyo as Wotan and the Wanderer in Der Ring des Nibelungen, and in Brazil as Jochanaan in Salome in Sao Paolo.
Next season, he will return to the Semper Oper Dresden to sing the Four Villains and Germont, and debut with the Glyndebourne Festival as the Doctor in Vanessa.
As a concert artist, Mr. Albert has sung with the orchestras of Washington DC (National), Cologne, Southwest Florida, Chicago, Cincinnati, Dallas, Fort Worth, Houston, Dallas, Minnesota, Seattle, St. Paul, Los Angeles, Austin, Palm Beach, Greensboro, Grant Park Music Festival, Grand Teton Music Festival, Madison, Vienna and Linz, in Austria and in Jerusalem, Gibraltar Philharmonic, and Grand Teton Festival. This past season, he appeared with the Säarlandische Rundfunk Orchestra as soloist the Verdi Requiem, and the Cincinnati Symphony for performances in Carnegie Hall and Cincinnati of Dett's TheOrdering of Moses. He remains a resident artist with the Center for Black Music Research at Chicago's Columbia College. This past October, he returned to Carnegie Hall with the American Symphony Orchestra as the Kommandant in Friedenstag and the title role in Krenek's Der Diktator..
Recent operatic engagements include: Rigoletto for Vancouver Opera, Amonaso in Riga, Latvia, and Phoenix, Alfio for the Orlando Opera, Iago for the Kentucky Opera, Il Giuramento for the Washington Concert Opera, Das lied von der Erde with Rhode Island Philharmonic, Elijah with the Southwest Florida Master Chorale, concerts with the Choral Arts Society of Washington, the Atlanta Symphony, the American Symphony Orchestra for their performance of d'Indy's Fervaal, Nashville Symphony, the Kentucky Opera as Germont, Latvian Opera as Giorgio in I Puritani, Prague's National Theater as the Four Villains in a new production of Les Contes d'Hoffman, and the Semper Opera in Dresden for Keith Warner's new production of Faust, in Paris for Aida, in Riga, Latvia for Otello, Madison Opera for La Traviata, Washington Concert Opera for Adriana Lecouvreur, and Edmonton Opera as Amonasro.
Donnie Ray Albert was born in Louisiana. He earned a Bachelor of Music Degree at Louisiana State University and a Master of Music Degree from Southern Methodist University in Dallas, Texas. Mr. Albert may be heard on RCA's Grammy Award and Grand Prix du Disque winning recording of Porgy and Bess, NOW's recording of The Horse I Ride Has Wings with David Garvey on piano, EMI's Frühlingsbegräbnis and Eine Florentinesche Tragodie by Zemlinsky conducted by James Conlon, and Simon Sargon's A Clear Midnight on the Gasparo label.