Biography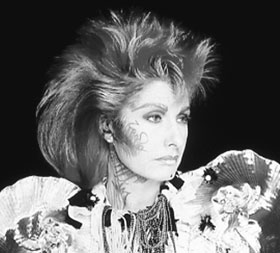 Zandra Rhodes was born in Chatham, Kent, UK in 1940 and introduced to the world of fashion by her mother, a fitter for the Paris fashion House of Worth and later a lecturer at Medway College of Art. Zandra studied at Medway College and then at The Royal College of Art in London. Her major area of study was printed textile design.
Considered too outrageous by the traditional British manufacturers, she decided to make dresses from her own unique fabrics and pioneered the very special use of printed textiles as an intrinsic part of the garments she created. In 1967 she opened her first shop: The Fulham Road Clothes Shop in London with Sylvia Ayton. In 1969 she set up on her own and took her collection to New York where it was featured in American Vogue, after which she started selling to Henri Bendel in NY. In the UK, Zandra was also given her own area in Fortnum and Mason, London. Zandra was Designer of the Year in 1972 and in 1974 was made Royal Designer for Industry. The rich, famous and fashionable wore her clothes. In 1975 she founded her own shop off Bond Street London.
Zandra's own lifestyle is as dramatic, glamorous and extrovert as her designs. With her bright pink hair, theatrical make-up and art jewellery, she has stamped her identity on the international world of fashion. She was one of the new wave of British designers who put London at the forefront of the international fashion scene in the 1970's. Her unique use of bold prints, fiercely feminine patterns and theatrical use of color has given her garments a timeless quality that makes them unmistakably a Rhodes creation. In 1977 she pioneered a pink and black jersey collection with holes and beaded safety pins that earned her the name of "Princess of Punk".
Notable clients include Diana, Princess of Wales, Jackie Onassis, Elizabeth Taylor and Freddie Mercury of the rock group 'Queen'. She continues to clothe and design the rich and famous around the world from royalty to rock stars including: HRH Princess Michael of Kent, Debbie Harry, Bianca Jagger, Kylie Minogue, Anastasia, Paris Hilton, Joan Rivers and the late Isabella Blow.
Zandra's dresses are the ultimate dress-up dress. Helen Mirren, star of "Calendar Girls," "Madness of King George" and more recently "The Queen" wore a "Zandra" when she received her award from BAFTA in Beverly Hills and Sarah Jessica Parker dressed up in a "Zandra" in "Sex and the City". Her vintage pieces have long been collected by Tom Ford and Anna Sui and have been worn by Kelly Osborne, Ashley Olsen, Kate Moss and Naomi Campbell.
Zandra Rhodes collections are sold in the top stores and boutiques around the world but her work does not just stop with dresses and printed textiles. It also encompasses various exciting licences including jewellery, wrapping paper, a full range of china for Royal Doulton, furs for Pologeorgis in New York. She has also collaborated with MAC to produce a limited edition make-up range.
In the last few years Zandra's career has diversified into designing the sets and costumes for operas. She has designed costumes for The Magic Flute for a production by the San Diego Opera which were recently seen in a production by the Seattle Opera. She has also designed sets and costumes for San Diego Opera's production of Bizet's The Pearl Fishers which has been subsequently seen at San Francisco Opera, Seattle Opera, New York City Opera, Washington National Opera, L'Opera de Montreal, Minnesota Opera, Opera Colorado, Pittsburgh Opera, Tulsa Opera, and Michigan Opera. This season, it will be presented by Houston Grand Opera and the Lyric Opera of Kansas City. She created sets and costumes for Houston Grand Opera's production of Aida based upon Egyptian-inspired designs which was subsequently presented at the English National Opera for two seasons and at the San Francisco Opera and the San Diego Opera.
Zandra devotes much of her time with her Fashion and Textile Museum in London which features the work of fashion and textile designers from the 1950's onwards. Opened in May 2003 by HRH Princess Michael of Kent, the museum is part of Newham College of Further Education with the status of: National Skills Academy for Fashion, Textiles, and Jewellery.
Zandra Rhodes was made a Commander of the British Empire in 1997 in recognition of her contribution to fashion and textiles and has nine Honorary Doctorates and in May 2010 was installed as Chancellor of the University of the Creative Arts (UCA) in the Banqueting House, Whitehall UK.