Biography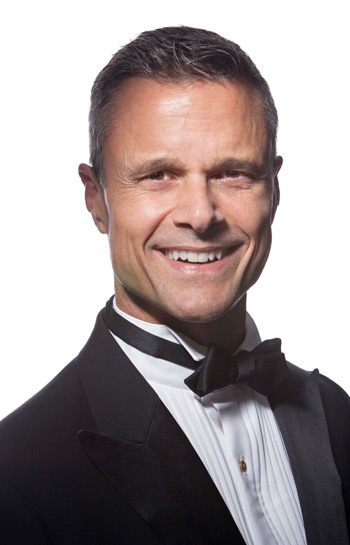 For conductor David Charles Abell, classical music, opera, film music and musical theater all contribute to a diverse career, unified by a serious yet theatrical approach. David has conducted many of the top British orchestras including the London Symphony, London Philharmonic, Royal Philharmonic, and Bournemouth Symphony. Internationally, he has appeared with the Wiener Symphoniker, Orchestre Philharmonique de Radio France, Atlanta and Cincinnati Symphonies, Hong Kong Philharmonic, Iceland Symphony, West Australian Symphony, Philly Pops and Boston Pops orchestras, among many others.
David's many television and radio appearances have encompassed a wide repertoire, from Johann Strauss with the period-instrument Wiener Akademie to the launch of the Ten Pieces classical music education project with the BBC Concert Orchestra. In addition to three televised appearances at the BBC Proms, he conducted the Les Misérables 10th and 25th Anniversary Concerts, both broadcast worldwide on TV.
David maintains a thriving opera career, appearing regularly with Cincinnati Opera and Lyric Opera of Kansas City and guesting with several other companies. He recently made his Opera Philadelphia debut conducting the Barrie Kosky production of Die Zauberflöte. He has conducted Kevin Puts' Pulitzer Prize-winning Silent Night to great acclaim at three US companies, as well as two recent European productions of Cole Porter's Kiss Me, Kate in his own critical edition of the score. Following his successful English National Opera debut with Sweeney Todd in 2015, he returned with Carousel last season to rave reviews.
His ever-increasing catalogue of recordings includes Something's Gotta Give with baritone Simon Keenlyside, excerpts from La bohème and Madama Butterfly with the Royal Philharmonic, Jonathan Dove's community opera Tobias and the Angel on Chandos and complete recordings of the musicals Miss Saigon and Man of La Mancha. Forever, his 2013 EMI Classics recording with soprano Diana Damrau, was chosen as CD of the week by Norman Lebrecht.
Future plans include his debut at the Zurich Opera conducting Sweeney Todd with Bryn Terfel and Angelika Kirchschlager, West Side Story at the Glimmerglass Festival and Lyric Opera of Kansas City, and concerts with the Orchestre National d'Île de France and the Philly POPS (where he has recently been appointed Principal Guest Conductor).
'Musically, it may indeed leave you giddy: the orchestra's handling of the score, under conductor David Charles Abell, is glorious — delicate, sweeping, witty.'
The Financial Times on Carousel at English National Opera
'What made the evening such a delight was Abell's rapport with the audience, who were immediately charmed by his convivial manner. Best of all, the orchestra took to his leadership with precise playing that evoked the Gershwin sound with a kind-of carefree authority. Let's hope he's welcomed back soon.'
EDGE Media Network on Gershwin Celebration with the Boston Pops
'It would be hard to imagine a better musical performance… Conductor David Charles Abell led a nuanced account of this complex score, obtaining playing of depth and beauty. Balance between pit and stage can be tricky in Music Hall, but singers were always audible (even in the noisiest moments), and solo playing was glorious.'
Opera News on Silent Night at Cincinnati Opera
'Conductor David Charles Abell, who made a very good job of introducing the items, brought a generous sense of line, often conducting the long-spanning phrases rather than each metronomic bar.'
The Birmingham Post on the City of Birmingham Symphony Orchestra New Year's Concert
'The third hero of the revival is the American conductor David Charles Abell. …his speeds…were part of a carefully thought-through, intensely theatrical reading.'
The Timesof London on Rossini's La gazza ladra at Opera North
On the Concert Stage
David Charles Abell has conducted four times at the BBC Proms, most notably for Stephen Sondheim 80th Birthday celebration and for 2014's War Horse Prom. He has conducted most of the major British orchestras and is expanding his work in France, most recently debuting with the Orchestre national de Lyon. In 2013, he debuted successfully with the Philly POPS for their Holiday Concerts and was immediately invited back for the following two years. The POPS has recently named him their Principal Guest Conductor.
He has made a specialty of the music of Gershwin (Iceland Symphony, Flemish Radio Orchestra, Cape Town and Cincinnati Operas), Copland (BBC National Orchestra of Wales, Iceland Symphony) and Korngold (centenary concert with the Royal Scottish National Orchestra). His recording of the Gershwin Concerto in F with Peter Donohoe and the BBC National Orchestra of Wales was featured on the CD accompanying BBC Music Magazine in August, 2008.
In the Opera House
David's most recent US opera credits include Tchaikovsky's Eugene Onegin at Hawaii Opera Theatre, the Barrie Kosky production of Die Zauberflöte at Opera Philadelphia, Die Fledermaus at Cincinnati Opera, Rigoletto and Carmen at Lyric Opera of Kansas City, and Kevin Puts' Pulitzer Prize-winning Silent Night at both of the above companies and Michigan Opera Theatre. His performances of Porgy and Bess at the Cincinnati Opera with Measha Brueggergosman and Jonathan Lemalu in 2012 were extremely well-received.
In Autumn, 2009, he conducted a critically-acclaimed UK tour of Porgy and Bess with the Cape Town Opera:
'Conductor David Charles Abell nailed every hot-spot with keenness and self-evident love, steering the tightened narrative with a great sense of its imperative whilst relishing through his instinctive feeling for tempo-rubato the score's aching lyricism.'The Independent
David received the Pegasus Prize at the Spoleto (Italy) Festival in 2007 for his restoration and conducting of Menotti's rarity Maria Golovin. In 2006, he conducted Jonathan Dove's Tobias and the Angel (recorded by Chandos) for the re-opening of London's Young Vic. For that production, his expert handling of the 130-strong community chorus in addition to the professional cast and orchestra led Peter Lathan to comment in The British Theatre Guide:
'Under the direction of conductor David Charles Abell, these are truly among the most gorgeous choral sounds I have heard in forty years of opera-going.'
David made his operatic debut at age 25 as a last-minute replacement conducting Britten's The Turn of the Screw at the Washington Opera. He conducted two American national tours: Carmen for the San Francisco Opera and Il barbiere di Siviglia for the New York City Opera. In 2004, David conducted Rachel Portman's opera The Little Prince for BBC and PBS television. It has since been released on DVD and CD by Sony Classics.
Musical Theatre
David's two concert performances of Les Misérables (10th and 25th Anniversary celebrations) have been broadcast repeatedly on television worldwide.
Most recently, David Charles Abell conducted Carousel and Sweeney Todd (ENO), Fiddler on the Roof (Grange Park Opera) and Kiss Me, Kate (Théâtre du Châtelet and Opera North):
'There can be no conductor in the world with a more intimate understanding of this piece than David Charles Abell, who edited the critical edition of the score. With a full complement of saxophones and additional brass, the playing of the Opera North orchestra is so darn hot it's practically a fire-risk.' The Guardian
David conducted the French premieres of four Stephen Sondheim musicals: Sweeney Todd, Sunday in the Park with George, Into the Woods (Théâtre du Châtelet) and Follies (Opéra de Toulon). He was personally chosen by Andrew Lloyd Webber to conduct the world première of Love Never Dies - The Phantom Story Continues in London's West End. In addition to his other West End credits (Show Boat, Martin Guerre, Napoleon), he has conducted at the Bregenz Festival (West Side Story), in Japan (Pacific Overtures, Candide and Take Flight) andin Toronto (Miss Saigon).
He particularly enjoys collaborating with composers on new works: Finding Neverland (Scott Frankel), Take Flight (David Shire), The Three Musketeers (George Stiles), Napoleon (Tim Williams) and Martin Guerre (Claude-Michel Schönberg). David took the lead in the Richard Rodgers Centenary year of 2002, conducting gala concerts in the Theatre Royal, Drury Lane, the Royal Festival Hall and at the BBC Proms. From 2011 to 2014, he conducted the Olivier Awards ceremony, live on British radio and television.
Master of Festive Occasions
A particular specialty that has brought David praise is his unique way with concerts for the New Year celebrations. He has researched original source materials and performance practices of the Waltz King Johann Strauss II and his contemporaries. His discoveries have resulted in a refreshing and inimitable approach for these festive occasions and he provides entertaining and informative commentary throughout the concerts. In 2001, the Birmingham Evening Mail reported:
'With American conductor David Charles Abell displaying tremendous energy and enthusiasm, the familiar waltzes and polkas, principally of the Strauss family, surely never sounded better.'
In 2004, David proposed a television documentary bringing to life the rivalry of the Johann Strausses, father and son, and showing the early history of the waltz as it really was: the rock 'n' roll of its day. Strauss: The Waltz King(drama/documentary), and A Night In Vienna (concert with the period-instrument Wiener Akademie), were filmed in Vienna and broadcast on BBC television in August, 2005 with David conducting and speaking about the music of the Strauss dynasty.
Authoritative Interpreter of Bernstein
One of Leonard Bernstein's last protégés, David Charles Abell has been singled out in particular as a fine interpreter of his music. In 2003/04 he went to Japan for a new production of Candide andconducted West Side Story on the 'floating stage' of the Bregenz Festival:
'The pit band is no less than the superb Vienna Symphony. Had there been a roof, it would have been raised by conductor David Charles Abell's attack on the big dance and rumble numbers.' Variety
He has conducted two concerts with the BBC Symphony Orchestra highlighting Bernstein's lesser-known works (including Songfest and the Serenade). His 2008 season included On The Town at the Théâtre du Châtelet in Paris. David has also participated in the editorial process for the authoritative edition of Leonard Bernstein's works, including West Side Story and Candide, for which he also served as Music Supervisor at London's Menier Chocolate Factory in 2013.
His love for Bernstein's music began at a young age, when he was chosen to sing in the boys' choir for the world premiere of Mass at Washington D.C.'s Kennedy Center. Mass was also the piece with which he made his professional conducting debut in Berlin at age 23.
Education and Training
Born in North Carolina, USA, his early education included intensive study of singing, piano, viola and composition before a decision at age fourteen to concentrate on conducting. He gained degrees from Yale University and the Juilliard School, where his teachers included Jorge Mester, Sixten Ehrling and John Mauceri. He went on to study and work with Leonard Bernstein and attended the Conservatoire Américain in Fontainebleau, France, where he studied with the legendary Nadia Boulanger. At Yale, he was Music Director of the Bach Society, where his gift for creative programming was first in evidence.