Biography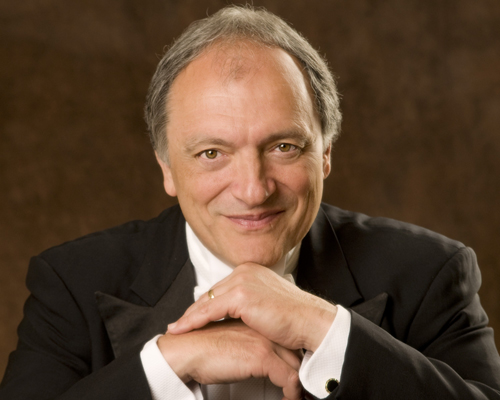 Music Director of the Madison Symphony Orchestra for more than twenty years, Grammy and Tony Award-winning conductor John DeMain is noted for his dynamic performances on concert and opera stages throughout the world. Jake Heggie, just one of the outstanding American composers with whom DeMain has collaborated, recently assessed the conductor's broad appeal, saying, "There's no one like John DeMain. In my opinion, he's one of the top conductors in the world."
During more than two decades in Madison, DeMain has consistently raised the quality of the Symphony by introducing the industry standard of blind auditions, overseeing the move into the world-class Overture Hall, expanding the subscription season to triple performances, and continuously expanding the repertoire to include ever more challenging and virtuosic works.
His active guest conducting schedule has taken him to the stages of the National Symphony, St. Paul Chamber Orchestra, the symphonies of Seattle, St. Louis, Pittsburgh, Detroit, Houston, San Antonio, and Jacksonville, along with the Pacific Symphony, Boston Pops, Aspen Chamber Orchestra, London Sinfonietta, Orchestra of Seville, the Leipzig MDR Sinfonieorchester, and Mexico's Orquesta Sinfónica Nacional. This season, he will appear as a guest conductor with the Long Beach Symphony and Columbus Symphony.
DeMain also serves as Artistic Director for Madison Opera and was formerly Artistic Director for Opera Pacific, where he led an unprecedented seven-company co-production of Jake Heggie's Dead Man Walking in 2002. He has been a regular guest conductor with Washington National Opera at the Kennedy Center, New York City Opera, Michigan Opera Theatre, Los Angeles Opera, Seattle Opera, San Francisco Opera, Virginia Opera, Lyric Opera of Chicago, the Glimmerglass Festival, Portland Opera, and Mexico's National Opera.
In recent seasons, he has returned to the Kennedy Center for productions of Porgy and Bess and Show Boat with Washington National Opera, both of which have been subsequently presented by the Lyric Opera of Chicago and San Francisco Opera, where he also conducted the final concert at San Francisco Opera's Merola Program.
He opened Seattle Opera's 2012-2013 season with performances of Porgy & Bess, and will return to conduct the same work in the summer of 2018 and led the Canadian premiere of John Adams' Nixon in China with Vancouver Opera. Elsewhere, he returned to Virginia Opera to conduct Carmen and Aida and Glimmerglass for Sweeney Todd and Porgy and Bess.
During his distinguished 17-year tenure with Houston Grand Opera, in addition to conducting a wide spectrum of the standard operatic repertoire, DeMain led a history-making production of Porgy and Bess, winning a Grammy Award, Tony Award and France's Grand Prix du Disque for the RCA recording. In all, he has conducted more than 350 performances of Porgy and Bess throughout the world. His critically acclaimed New York City Opera production of the opera was televised on National Public Television's acclaimed Live from Lincoln Center series and garnered an Emmy nomination for "Outstanding Classical Music & Dance Program." The series also presented DeMain's productions of An American Christmas with James Earl Jones, Floyd's Willie Stark, Joplin's Treemonisha, Adams' Nixon in China and Plácido Domingo & Friends. His contributions to the series were celebrated in its 2006 30th Anniversary Broadcast, which featured excerpts of his New York City Opera Porgy and Bess performance and of "No Puede ser" with the legendary tenor Plácido Domingo, with whom he has worked extensively in concerts throughout the world, most notably in the celebrated 1992 Concert for the Planet Earth from Rio de Janeiro.
At Houston, DeMain was invited by Leonard Bernstein to conduct the world premiere of the composer's last opera, A Quiet Place, and DeMain has since conducted the world premieres of John Adams' Nixon in China, Carlisle Floyd's Willie Stark and The Passion of Jonathan Wade, and Sir Michael Tippet's New Year.
DeMain began his career as a pianist and conductor in his native Youngstown, Ohio. He earned his bachelor's and master's degrees at The Juilliard School in New York City and went on to make a highly acclaimed debut with the Pittsburgh Symphony Orchestra. DeMain was the second recipient of the Julius Rudel Award at New York City Opera and one of the first six conductors to receive the Exxon/National Endowment for the Arts Conductor Fellowship—for his work with the St. Paul Chamber Orchestra.
DeMain holds honorary degrees from the University of Nebraska and Edgewood College and he is a Fellow of the Wisconsin Academy of Sciences, Arts and Letters. He resides in Madison with his wife Barbara and their daughter Jennifer.