Biography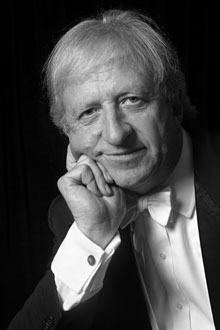 Michael Lankester enjoys an eminent, international conducting career that also includes work as composer, arranger and commentator for special projects in opera, theater and broadcasting.
In May 2000, he completed a highly successful tenure as Music Director of the Hartford Symphony Orchestra and the Hartford Chamber Orchestra. His fifteen years with the HSO were notable for elevating the artistic standards of the orchestra, increasing its subscriber and donor bases and introducing several innovative series, among them "Classical Conversations" and "Saturday Family Matinees." Hailed by one critic as " the most articulate explicator and advocate of classical of music on the planet ...." his Classical Conversations series was a supreme triumph. Begun, originally, as a vehicle for the Hartford Chamber Orchestra, it grew as a natural extension of Michael Lankester's highly popular pre-concert talks which were attracting between 1,600 and 1,800 audience members per program. Such was the success of Classical Conversations that it grew into a series for the full symphony orchestra which was then forced, by popular demand, into giving repeat performances of each program. His innovative and imaginative programming led to numerous sell-out concerts including the realisation of one of Serge Diaghilev's unfulfilled plans for the Ballets Russes, involving the world premiere of Stravinsky's original intentions for his opera/oratorio Oedipus Rex. This programme also included Beethoven's Overture 'The Creatures of Prometheus', 'Debussy's 'L'Apres Midi ...' and Ravel's D & C - the original ballet designs (by Picasso, Bakst, Benois, Derain, Rouault, Matisse, etc) for which were then currently on show at the Wadsworth Atheneum in Hartford. His fund-raising leadership on behalf of the orchestra culminated in the creation of the "Michael Lankester Fund" which became a focal point of the HSO's 2000 Endowment Campaign.  He  returned to the orchestra this past season as a guest conductor.
Since leaving the HSO, Mr. Lankester has been active as as a guest conductor with the London Symphony Orchestra, Pittsburgh Symphony, Toronto Symphony Orchestra, Bulgarian National Radio Orchestra, Singapore Symphony Orchestra, Orquesta Sinfónica Nacional de Costa Rica, and the orchestras of Seattle, Syracuse, Indianapolis, S W Florida, Edmonton, etc. His close work with chamber orchestras has continued with concerts for the Shakespeare Society of New York, the Manitoba Chamber Orchestra and numerous other ensembles.  This season, he will return to the Syracuse Symphoria Orchestra as conductor.
Mr. Lankester made his American debut in 1980 with the Pittsburgh Symphony Orchestra. During an eight-year association with that orchestra - first as Assistant Conductor, then as Associate Conductor and finally as Conductor-in-Residence - he led subscription, education and tour concerts and directed its contemporary music series, "Music Here and Now." During the 2001-02 and 2002-03 seasons, he returned to lead "Meet the Classics," a three-concert series devoted to, respectively, Mozart and Tchaikovsky.
As a guest conductor, Michael Lankester has led many of North America's most distinguished ensembles, among them The Cleveland Orchestra, The National Symphony Orchestra and the symphony orchestras of Detroit, Fort Worth, Indianapolis, Phoenix, Pittsburgh, San Diego, San Francisco, Seattle, South Dakota, Syracuse, Edmonton, Montréal and Ottawa as well as the Orquesta Sinfónica Nacional de Costa Rica and Mexico's Orquesta Filarmónica de la UNAM. Of special note is his long-standing association with The Toronto Symphony Orchestra, to which he returns on a regular basis. He has also been heard at Connecticut's famed "Summer Music at Harkness" festival, with piano soloist Jon Nakamatsu. He has conducted performances of the New York City Ballet and London Symphony Orchestra, with which he recorded an album of Wieniawski concerti and polonaises with violinist Min Lee.
In his native England, Michael Lankester has conducted the London Symphony Orchestra (with which he has also recorded for Argo Records), Royal Philharmonic Orchestra, City of Birmingham Symphony Orchestra, BBC Symphony Orchestra and English Chamber Orchestra. He has appeared at numerous European festivals including the Henry Wood Promenade Concerts in London and in America at the Blossom Festival. He has also led the Orchestra Communale di Firenze on a tour of Tuscany, the Bulgarian National Radio Symphony Orchestra (with which he has also recorded for MSR Classics) and he returns annually to conduct at the Festival La Gesse in Toulouse, France. In Asia, Mr. Lankester has led the Singapore Symphony Orchestra and Taiwan's National Symphony Orchestra at its International Festival of Music.
Michael Lankester has achieved considerable success with his arrangement of Prokofiev's film score, Ivan the Terrible, with an accompanying script for narrator, premiered by the Hartford Symphony Orchestra and broadcast throughout the United States on National Public Radio. This version was subsequently performed by both the National Symphony Orchestra (at the John F. Kennedy Center for the Performing Arts) and London Symphony Orchestra under the baton of Mstislav Rostropovich, and then recorded with the latter ensemble for Sony Classical. Mr. Lankester's arrangement of music from Wagner's Ring cycle has been performed in Hartford and Pittsburgh. His compositions for children, Make Your Own Orchestra, a work that features handmade instruments, A Pocket-Sized Guide to the Orchestra, and Nursery Rhymes have been performed in many American cities. Another of his innovations, a play for actress, singers, chorus and orchestra entitled Mrs. Mozart, was premiered in April 1999 and starred Academy Award-winning actress Estelle Parsons.
A former Music Director of the National Theater of Great Britain, Michael Lankester worked with many distinguished directors, including Jonathan Miller, John Dexter, Ingmar Bergman and Franco Zeffirelli. He collaborated extensively with Laurence Olivier composing and recording scores for numerous plays and television productions. He also served as conductor for the inaugural production of Tom Stoppard's play Every Good Boy Deserves Favour (with music by André Previn) at London's Mermaid Theatre; more recently, he has led several performances in Atlanta, Chicago and Minneapolis.
Michael Lankester has worked closely with three of the leading British composers of the twentieth century: Benjamin Britten, with whom he created an orchestra suite from the ballet The Prince of the Pagodas; William Walton, for whom he took over a series of concerts celebrating the composer's 75th birthday; and Michael Tippett, with whom he worked in collaboration with the Northern Junior Philharmonic Orchestra of England.
Born in London, Michael Lankester studied at the Royal College of Music with Sir Adrian Boult and was awarded a conducting scholarship by Sir Malcolm Sargent. Subsequently, he joined the faculty of the Royal College of Music as Professor of Conducting and Head of Opera. For twelve years, he conducted Contrapuncti, his own chamber orchestra, giving numerous performances in London and on tour throughout Great Britain and Europe.
Fundamental to Michael Lankester's driving force as a musician is his continuing work with young people. In addition to his many years as Music Director of the Pittsburgh Youth Orchestra and his annual festivals with the Northern Junior Philharmonic Orchestra in England he has performed literally hundreds of concerts with and for children of all ages - testament to his passionately held belief that it is only by young people actually taking part in performances that we can begin to secure the future of great orchestral music.
Michael Lankester holds an Honorary Doctorate from the University of Connecticut and has just completed a year as guest professor of orchestral studies at New York University.